COMPANY PROFILE

Hein Saw Company was started in 1992 as a steel core manufacturing company mostly catering to the local Chinese market in its formative years of operation. Subsequently they partnered with German experts and embraced International standards of production.

Adopting the complete German technology and equipment in key areas of production, Hein produces steel cores for stone, steel, wood and construction in their most modern factory in Rizhao in China.

Hein's products are internationally accepted with exports to 47 countries around the world. Continuous Research & Development work is undertaken today in Hein's Development Centre.

German and Chinese Management.

Mr. Heinrich Mummenhoff, Technology adviser and Mr Gerhard Scharr, Chief Engineer are the key technology drivers.Hein now produces quality blades that better other European manufacturers too.
Manufacturing.

Hein Saw adheres to stringent quality controls in manufacturing.

Hein Saw has a special cooperation with the most reputed steel producer of Germany "Thyssenkrupp", to produce the special steels with even hardness, for the larger saw blades. Machining and processing is by the most modern machines like water jet cutting, special heat treatment facilities, grinding machines and tension rolling machines from Germany. Testing, tightening and straightening are accomplished in one step guaranteeing high precision.

Continuous research and development goes on at Hein's development centre. Every new innovation at Hein aims at reducing the wastage in the raw material thereby conserving the natural resource.

Hein introduced through Diacore in the Indian market, thinner versions of blades with great success.
COMPANY PROFILE
German and Chinese Management.
Diacore and Hein entered into a business agreement as far back as 2004 and from then on the partnership has grown fuelled by trust, technology innovations and newer applications. Hein accorded the status of a Sole Marketing Partner to Diacore in 2005.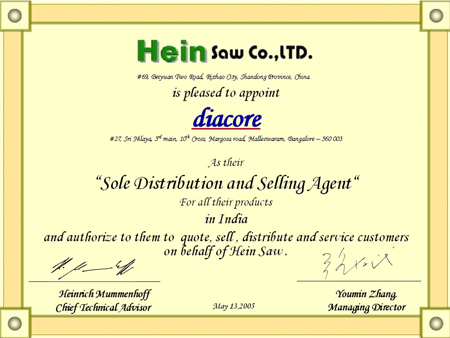 Under the "Hein-Diacore" combined brand name, Diacore has led the market with supplies of quality blanks all over the country. With its reach into the market through its various offices and service stations, Diacore has been instrumental in bringing monumental changes with technology innovation in the field of stone cutting.