BLOC-STONE SAW PVT. LTD. - ( A Diacore Enterprise )
Introducing - BLOC-CUT SEGMENTS

Bloc-Stone Saw Pvt. Ltd offers special purpose stone cutting Sintered Diamond Segments for a variety of applications. These tools are especially suited for Multi Block Cutters in the tiling industry as well as a host of other applications. The Multi Block Cutting machines adopt multiple blades of same and varying diameters and require a set of tools which are consistent and fast in cutting and at the same time with optimum tool life.

Bloc-Stone Saw is a company spearheaded by the combination of Diacore and expert Technicians who co-own Diamex, an Italian Company which is in existence for the last several years. Diamex Srl was established in Bergamo (Italy) in 2.000 since its merger with the Trento "Porfidi International" Group (Italy). Trento itself had gained a vast experience since 1979 in the production of diamond tools for marble, granite, cement and asphalt.

The company is in a unique position to offer not just products related to cutting stones but overall solutions to customers in effectively using tools and blades.

This uniqueness also comes from the fact that a large posse of service technicians from Diacore, offer service help to customers by their innate strength acquired from the Hein saw activity. They offer a "doctoring" process to customers assessing their machines and blades before they even sell or install the Bloc-Cut segments.

With Diacore and its group Companies, understanding customer needs is a primary goal and such a goal is pursued through a constant activity of 'interaction before a sale'.

Manufacturing.

Tile processing tools require Product Consistency and Reliability, Care and Service, apart from effective cutting.

Therefore, Bloc Cut Segments are manufactured using high quality raw materials to achieve higher cutting parameters in terms of speed and depth of cut thereby increasing the productivity. The segments are manufactured using advanced machinery and technologies. These segments also ensure minimal thickness variation in the tiles while cutting.

Bloc-Cut segments are manufactured in the state-of-the-art factory in Jigani, a suburb of Bangalore. Equipment that is used in the manufacture is from world-leaders like Dr Fritsch of Germany. Trained Engineers and experienced technicians ensure quality and consistency.
Products
Single discs and traditional diamond segments from Ø 300 to Ø 3.500 mm saws.
"Millennium" disc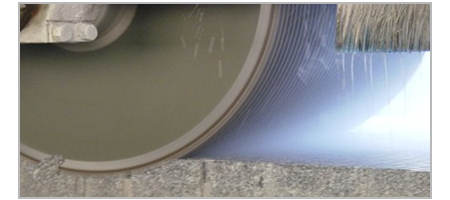 "Millennium" diamond discs for multi-disc block-cutters with thin segment from
Ø 800 to Ø 1.300 mm.
Segments for Multi Block Cutter – Same Diameter
Segments for Multi Block Cutter – Scallatta Combinations
Horizontal Diamond Segments and discs.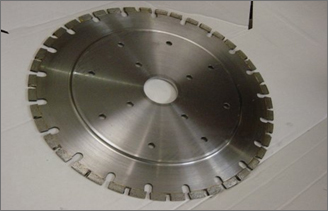 BLOC-STONE SAW PVT. LTD.
A Diacore Enterprise
------------------------------------------
Special 20- Indl Estate, 4th Cross,
KSSIDC, Jigani 2nd Stage, Jigani,
Anekal Taluk, Bangalore-562106.